17 Sep 2016 - 02:19:05 am
Maglev Trains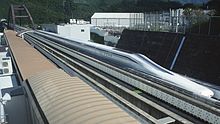 Maglev
(derived from
mag
netic
lev
itation) is a transport method that uses
magnetic levitation
to move vehicles without touching the ground. With maglev, a vehicle travels along a guideway using magnets to create both lift and
propulsion
, thereby reducing
friction
by a great extent and allowing very high speeds.

The Shanghai Maglev Train, also known as the Transrapid, is the fastest commercial train currently in operation and has a top speed of 430 km/h (270 mph). The line was designed to connect Shanghai Pudong International Airport and the outskirts of central Pudong,Shanghai. It covers a distance of 30.5 kilometres (19.0 mi) in 8 minutes.[1] The Shanghai system was labeled a white elephant by rivals.[2]


Maglev trains move more smoothly and more quietly than wheeled mass transit systems. They are relatively unaffected by weather. The power needed for levitation is typically not a large percentage of its overall energy consumption;[3] most goes to overcome drag, as with other high-speed transport. Maglev trains hold the speed record for trains.


Compared to conventional trains, differences in construction affect the economics of maglev trains, making them much more efficient. For high-speed trains with wheels, wear and tear from friction along withdynamic augment from wheels on rails accelerates equipment wear and prevents high speeds.[4] Conversely, maglev systems have been much more expensive to construct, offsetting lower maintenance costs.


Despite decades of research and development, only three commercial maglev transport systems are in operation, while one more is under construction.[note 1] In April 2004, Shanghai's Transrapid system began commercial operations. In March 2005, Japan began operation of its relatively low-speed HSST "Linimo" line in time for the 2005 World Expo. In its first three months, the Linimo line carried over 10 million passengers. South Korea became the world's fourth country to succeed in commercializing maglev technology with the Incheon Airport Maglevbeginning commercial operation on February 3, 2016.